Strona w trakcie tworzenia. Materiały się sukcesywnie uzupełniane.
Wystawa: VII Wystawa prac poznańskich plastyczek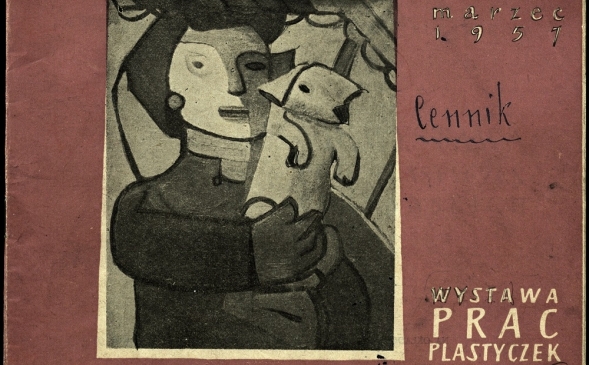 VII wystawa prac plastyczek poznańskich

VII Wystawa prac poznańskich plastyczek
Miasto: Poznań
Instytucja: BWA
Kuratorka: Janina Szczepska
Data: 1957
Maria Chudoba Wiśniewska
Zofia Dzurzyńska-Rosińska
Jadwiga Eichlerowa
Zofia Gorączkówna
Barbara Houwaltowa
Bożena Hubicka
Irena Jarzyńska
Anna Kandziora-Stawicka
Janina Kotlińska
Krystyna Krauze
Anna Krzymańska
Aniela Kubicz
Helena Michałowska
Stefania Niedźwiedzka
Emilia Parczewska
Krystyna Powidzka
Ewa Pruska
Zofia Sobecka
Maria Szczawińska
Janina Szczepska
Jadwiga Szyszko
Irena Zmarzlińska-Dzisiewska
Katalog VII wystawa prac poznańskich plastyczek, ZPAP, CBWA, Poznań 1957
Tekst kuratorski STRONA 1 STRONA 2
Zaproszenie PLIK
Plakat PLIK
Te i inne materiały dotyczące wystawy dzięki uprzejmości Cyfrowego Repozytorium CYRYL.
J.Ż. Płciowizm?, "Tygodnik Zachodni" 3?/30?. 03.1957
Tadeusz Pasikowski, Dwa ukłony-dwie pochwały. Z wędrówek po wystawowych salach, "Gazeta Poznańska" 23.03.1957
W archiwum Galerii Miejskiej Arsenał (przedtem BWA) w Poznaniu znajdują sie tylko materiały dotyczące tej edycji.
In the first half of the 1950s, during the times of Socialist Realism[1], the organisation of all-women shows was in line with the policy of the Stalinist state towards women's work, as women were encouraged to take on specialised or managerial positions traditionally reserved for men, and they were also accepted in the so called new professions[2]. The mechanism of admission of women in spheres from which they used to be excluded at that time seems to work similarly in the field of art – it was a kind of a paternalistic permission. The exhibitions were not women artists' individual, bottom-up initiatives, but were regulated by the authorities and fulfilled the demands and requests of the government. Even if curators were women, they did not have the freedom to organise the show in a way that would suit the needs and interests of female artists.
The series of regional all-women exhibitions[3], organised by the aforementioned Association of Polish Artists and Designers (ZPAP), presenting the works of female artists selected by a jury out of the submitted applications, was closely tied to the political context. This form of selection of works was frequent in case of shows organised by associations, but here it is worth stressing that it was also safe for the authorities, as it facilitated control. This kind of exhibitions aimed to celebrate the International Women's Day – an important holiday in communist propaganda, which was just a facade, an illusion of care for the interests of women, without any real, emancipatory sense. In reality, it consisted in one day of adoration and appreciation of women by men – often representatives of the authorities – and had a patronising character[4]. Nonetheless, the holiday was very popular among female citizens themselves, who saw it as an opportunity for short-term gains. Exhibitions organised by state-controlled associations created similar illusions. On the one hand, they allowed women to display their art, thus strengthening their position in the art field; but on the other hand, they had total control over the framework of that presentation, preventing female artists from achieving independence in this field. Although (in most cases) the shows were not prestigious and had only a local scope, the effects of a bigger activity of women in the field of art – just like it happened in case of women's mobilisation in the area of production (women's livelihood was actually improved) – could be valuable.
Luiza Kempńska, "All-women exhibitions in the Stalinist period", w: Wystawy sztuki kobiet w Polsce,
http://wystawykobiet.amu.edu.pl/wystawa/vii-wystawa-prac-poznanskich-plastyczek,50.html
---